Theatre & Events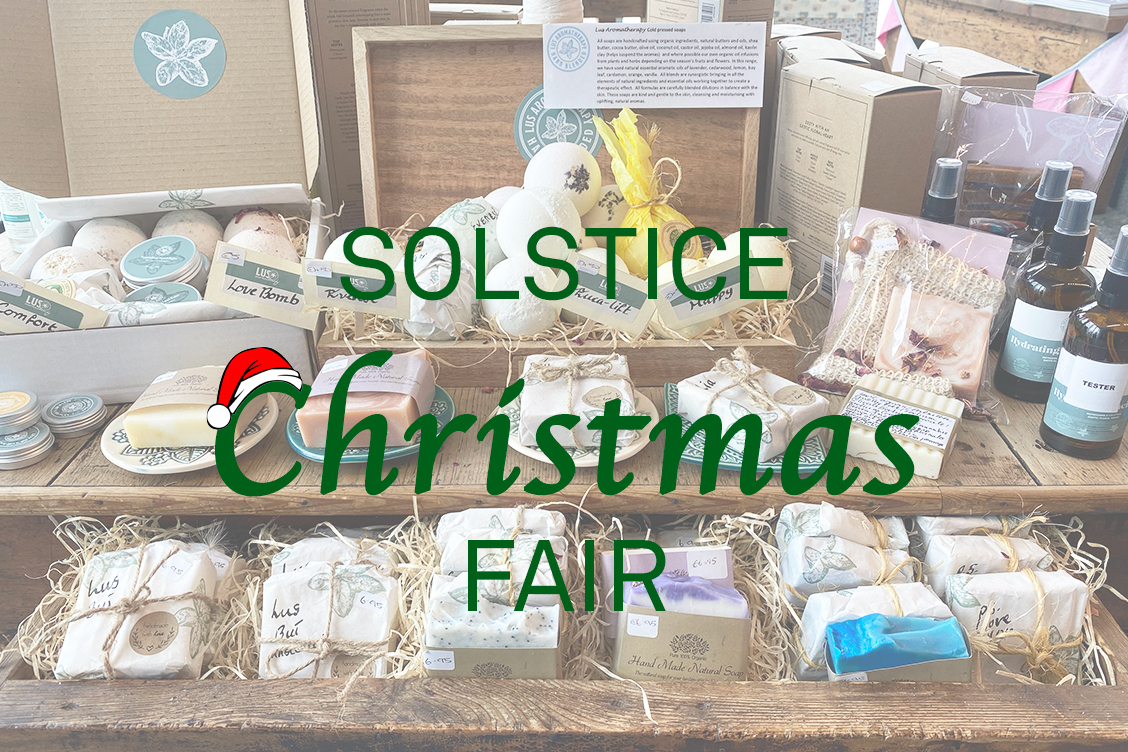 Christmas Food & Craft Fair
Date/Time: Saturday 3rd December, 10am - 6pm
Entry: Free, no booking required
Enjoy the festive atmosphere while browsing a large selection of local, high quality crafts and artisan foods. A perfect opportunity to pick up a unique Christmas gift and try some delicious treats! Scroll down below to see photos from our vendors.
ALL PARTICIPATING VENDORS:
Solstice Café: A variety of breads, pies, cookies and puddings will be homemade to compliment your favourite coffee, speciality tea or festive hot drink.
Art by GG: A local artist, selling prints of local buildings and landmarks, as well as taking commissions for wedding venue portraits, business and house portraits.
Beewise: Honey and honey products, produced and sourced from hives right here in Co. Meath.
LUS Aromatherapy: Lus products are freshly handmade in small batches locally in the beautiful Boyne Valley. Their ingredients are certified organic and of the highest quality. Offering organic, vegan and eco-friendly skincare products suitable for all ages and skin types. Luxury without compromise.
Navan & District Historical Society: N&DHS will have a new publication ready in time for Solstice Christmas Fair on Saturday 3rd December 2022. This very special publication is a revised, limited edition copy of Journals 1 and 2 combined in one hardback bound book.
Rain and Wild: Candle maker from Navan. Focused on Earth Positive values, they are committed to doing the least amount of harm to the earth, and bringing about some positive change while they're at it.
Emma Ryan Art: Local artist who has recently set up "Emma Ryan Designs", an art business specialising in original abstract art and products. Original paintings range in size and price range, something for everyone. Products include Art cards, cotton tote bags and stationary.
ReVerve Artists: Three local artists; Cosette Olohan, Penelope Lacey and Mette Roche. Together, they will be selling: ceramic tree decorations and reusable ceramic gift tags (Penelope Lacey), handmade textile jewellery and cards printed with images of original art (Mette Roche), and a unique series of original botanical artwork (Cosette Olohan).
Wool Fairy: A large selection of excellent and unique wool felt products. Seasonal products that will be suitable for any budget.
The Free Range Farmer: 'The Free Range Farmer' is a small company selling delicious home grown, foraged and produced food products. Owned by Tamara Kenny, a small holding farmer with an emphasis on free range and sustainable farming.
Swainstown Farm: Growing chemical free Vegetables and Flowers. Adventures into regenerative farming.
Yummy Creame's: Family owned and local, Yummy Creame's are the place to be for all the sweet treats of your heart's desires.
Wonder of Waste Bags (WoW): Wonder of Waste Bags use 100% recycled and cleaned plastic drink pouches, the talent and skills of Philippine women, and a network of volunteers to create bags which carry stories of hope and change.
A Little Irish Birdie: A little Irish Birdie is a collection of unique art pieces made by Bernie O'Brien based in Skryne, Co. Meath. Each piece is designed and handmade using the natural materials from Ireland – twigs, pebbles, or sand.
Ellie Crawford Candles: Ellie Crawford Candle Company was founded by Elaine O'Brien in the beautiful rolling countryside of The Boyne Valley in County Meath. Using only 100% eco-friendly luxury Soy Wax Blends and the highest quality non-toxic fragrances, Ellie Crawford Candle Company offers a uniquely Irish Inspired Candle Range.
Bridget's Mantle Organic Skincare: Bridget's Mantle is a skincare company based in Balrath, Co. Meath. Using the very best that nature supplies in a sustainable way, their ethos is to provide wonderful organic beauty face creams, spritzes and serum products.
Taylor Marie Creations: Cruelty free, vegan and eco-friendly wax melts, lush carpet fresheners, lip balms, reed diffusers, car fresheners and burners. Handmade products using seasonal fragrances and fresh florals.