News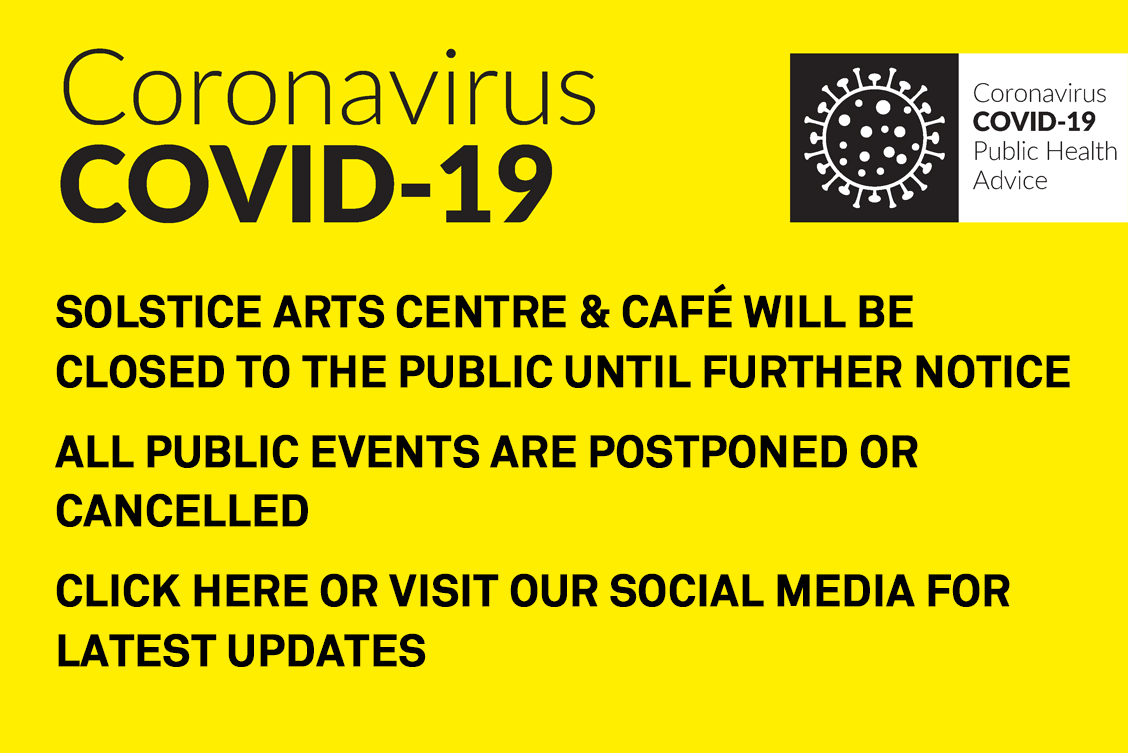 Latest Updates - COVID 19
Following the Government directive regarding COVID-19 restrictions, all events at Solstice Arts Centre have been cancelled and the building is closed until further notice. We have successfully rescheduled most events to a new date later in the year. We are contacting all affected patrons individually with information about new dates, or to issue refunds or credit vouchers for cancelled events. For ongoing updates, please keep an eye on our social media, or email info@solsticeartscentre.ie and we will try to respond as soon as possible.
Rescheduled Events
Original tickets will remain valid for new dates for all events

Neil Delamere: End of Watch
Thursday 4 June, 8:00pm (Original date Friday 27 March)
THE BEST OF BOND in Concert
Wednesday 10 June, 8:00pm (Original date Wednesday 15 April)
Farmer Michael & Kathleen - LIVE
Saturday 27 June, 8:00pm (Original date Friday 20 March )
Mary Black
Thursday 16 July, 8:00pm (Original date Friday 13 March)
A Day in the Death of Francis Ledwidge
Friday 17 July, 8:00pm (Original date Thursday 26 March)
Halcyon Days by Deirdre Kinahan
Saturday 12 September, 8:00pm (Original date Wednesday 1 April)
9 to 5 THE MUSICAL - SMMS Navan
Thursday 1 - Sunday 4 October (Original dates Wednesday 29 April - Sunday 3 May)
True Reflections of Love and Hope - Virginia Gospel Choir
Friday 13 November, 8:00pm (Original date Sat 21 March)

Cancelled Events
The Solstice Gallery (You Are Made of Stardust exhibition) will remain closed for the duration of the Government directive on cultural institutions (Including all scheduled Gallery Tours)
IFI Cinema Screenings (Wed 18 March, Thurs 19 March, Fri 20 March)
Biggest Litte Farm (Wed 25 March, 7:30pm)
Now That's What I Call Country Music – The Roadshow (Fri 3 April, 8:00pm)
Overblown: Flowers in Contemporary Art Exhibition (Sat 4 April - Fri 12 June 2020)

Postponed Events, new dates to be arranged
Gaza (Thurs 19 March, 7:30pm)
I AM BABA (Fri 20 March, 10am, 11am & 12:30pm)
Spring Wreath Making Workshop (Fri 20 March)
Scór Sinsir Laighean (Sun 22 March, 2pm)
The Star of Chester's Lane (Sat 28 March, 8:00pm)
Posted on 26 Mar 2020.