Continuous Line
Follow Annabel's instructions above where she shares some advice for our young readers on how to practice your drawing skills.
You will need a sharp pencil, your notebook or sheets of paper, natural or found objects
Chose something you find interesting. Looking at it closely, draw it in one continuous line. Practice every day and see a catalogue of interesting shapes emerge in your notebook. You could also cut them out, place them together, make a collage of line drawings into a big picture. (See Mini Artworks, Big Impression below)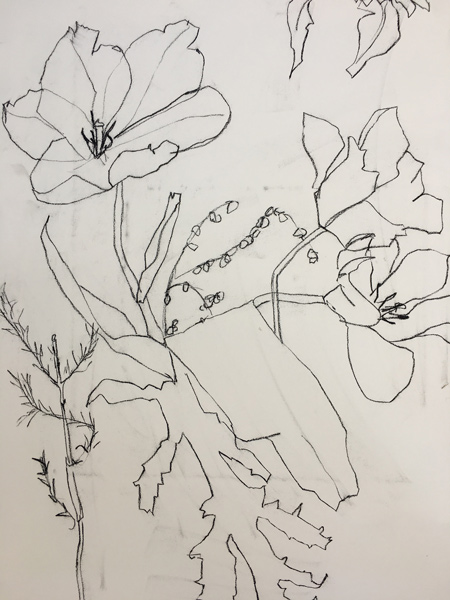 Floral continuous line drawing by Annabel Potterton
Did you know – Famous artist Pablo Picasso did this drawing exercise too! They were quick ways for him to experiment with ideas and included still life, portraits, animals and mythology. His animal sketches such as a penguin, camel and horse are the most popular and The Dog was Picasso's own pet, a dachshund called Lump. Look up Picassos line drawings on-line.
Mini Artworks, Big Impression
For her artwork 'Googling Marrowbone Lane' Annabel researched the area in Dublin past and present. Noticing how we now have access to a massive number of images when we search on-line, Annabel used this idea for a large finished artwork created from 42 smaller paintings arranged together.
You will need cut-outs from magazines or your own drawing or paintings, a large piece of paper, an A4 piece of paper, glue stick, scissors, 2 paper clips
Step 1: Begin by gathering photographs, pictures, drawings or the magazine cut-outs you collected for Deirdre Kinahan's inspired activities.
These do not have to be small, just keep gathering a collection of images, colours or pictures you like or make. You could even use your 'Continuous Line' drawings from above.
Step 2: When you have finished collected your images, make a view finder from a piece of A4 paper (see image below) by cutting it in half and making two L shapes. Hold them in place with two paperclips, making a square opening in the centre.
Step 3: Lay out all your collected images and place your viewfinder on top of them, one at a time. Turn them upside down and sideways if you like and begin selecting sections in each that interest you.
Step 4: Once selected, gently draw around the inside edge of the view finder and cut out your selected smaller squares, the more the better!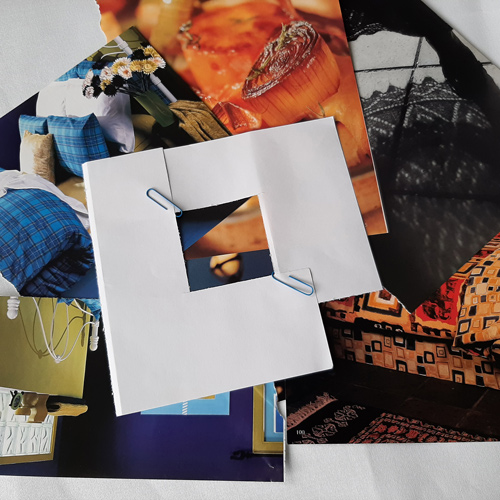 Paper viewfinder & pages from old magazines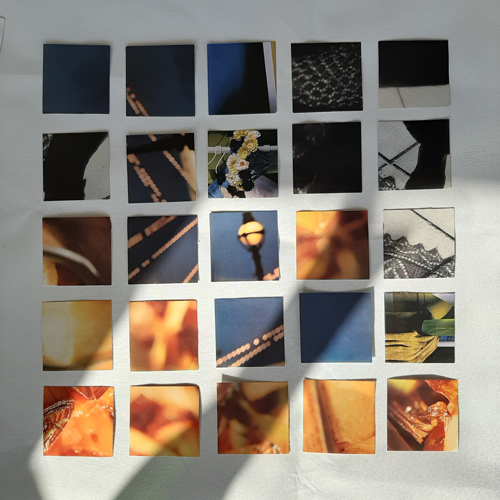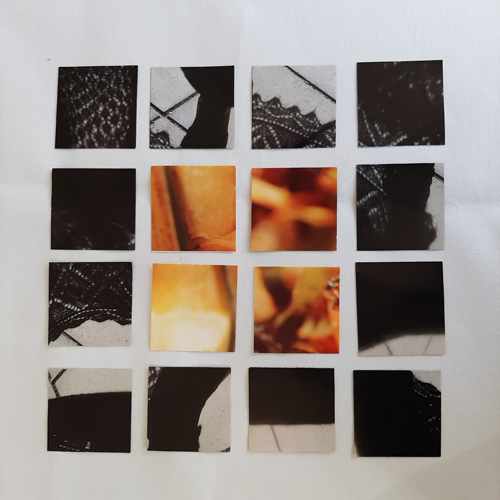 Experiment with the layout and number of squares
Step 5: Place your cut outs together on a large sheet, leaving an even space between them. Mix them around, turning and placing them where you think they look best. When they are all in place, stick them down and you have created your own large artwork from small multiples.
Step 6: Give your new artwork a title.