Drawing Inspiration from the Oddest of Things
Tell us a little bit about yourself and what you do:
I am originally from the UK although have been living in Ireland for 22 years outside Dunboyne in Co Meath on a small sheep farm. I paint in my studio most days and am lucky that the studio is six steps from my back door so the journey to work is very quick. I am on the committee of The Connolly Collective, making the link between arts and health in Connolly Hospital and run creative workshops with the residents in the Silver Birch Unit who are living with advanced dementia. I am a member of a Dublin-based group called 'FreeRange' as well as a member of a collaborative group of women Meath artists which meet in Solstice Arts Centre once a month.
What area of the arts do you work in?
Visual Arts.
How long have you been working in this area of the arts?
I went to Dunboyne College of Further Education as a mature student in 2011 to study art and then on to NCAD and the RHA School in Dublin. However, I always loved drawing and being creative and used chalk pastels to make work for ten years before going to college. Dunboyne artists got together in 2001 and we ran community exhibitions in December every year and other exhibitions in Co Meath, one being in Tayto Park where the work on show was themed on the potato. Being involved in groups is an important way to get out of your studio, connect and work with other artists.
After art college, seven of us formed a group called "FreeRange"; we meet to help one another in our ideas, get feedback and exhibit together. We exhibited in Eblana House, Marrowbone Lane in Dublin 8 in May 2018 using the history of the area as a theme for the exhibition. Researching some of the history of Marrowbone Lane on-line I learnt that there was a Disinfection Unit on the road in the 1880's which was used to disinfect clothing and bedding from houses where people had cholera and smallpox to try and stop the spread of the disease. I used some of the images that I found to make some paintings of this time. In contrast I thought about contemporary life in Dublin 8 and how when we google places, up comes a bank of images on our screens. I used these images and made a series of 42 small paintings in acrylic and called it 'Googling Marrowbone Lane'.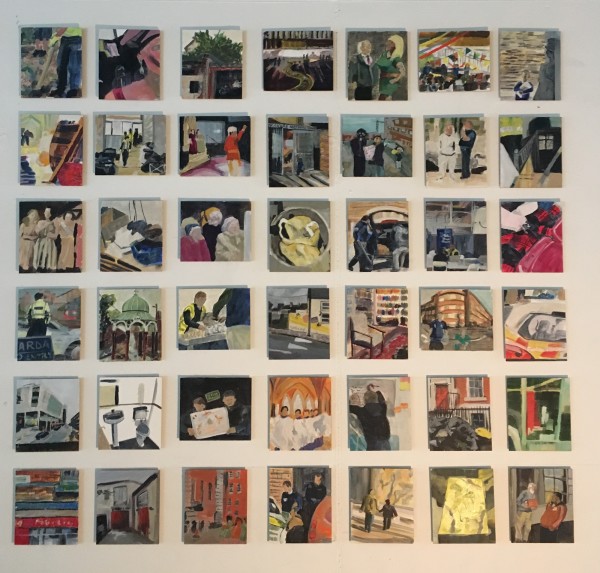 'Googling Marrowbone Lane', 2018 Annabel Potterton
What materials do you use to make your artwork?
For the last nine months I have been using organic matter from my garden to make a series of oil paintings. I start the work in the morning by selecting from the garden, looking for shapes and colour that interest me. I use a board coated in white gesso, brushing on a layer of deep red acrylic paint as an undercoat. This must be dry before I start so I pre-coat a few at the same time so that they are ready to go. I always use the portrait format and boards 40 x 30 cm. The composition or how I layout the painting is really important – I used to do a few sketches before I started to work this out but I have completed over 50 works now, so I know what I need to do to make each one a successful piece. Repeating a process allows you to learn more from it. As the work evolves it changes as you discover more about the materials, sparking ideas about where you want to take the work. For these paintings I use oil paints which are hugely different to acrylics as they take a few days to dry.
Sometimes I like to make my own gesso using rabbit skin glue, whiting which is powdered chalk, water and linseed oil. This is heated up in a saucepan on a small one-ring hob in the studio and I coat mdf boards with 20 layers of this mix over a three-day period. Once this is dry, they are ready to paint on.
Oil on board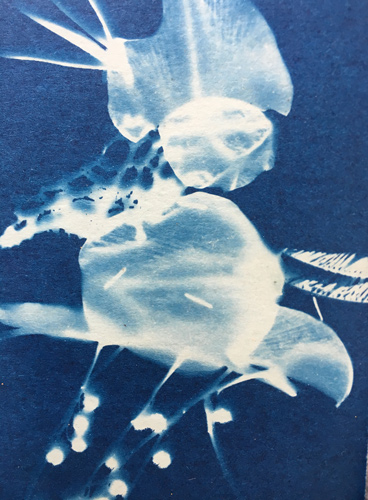 Cyanotype print
My work also involves experimentation with different media, the results of which may inform future paintings or become finished work in themselves. I often spend a few hours printing using acetate as a base and acrylic paint, making multiple prints. I used some pieces of organic material found in the garden such as flower petals and bits of grass recently to make some cyanotype prints inspired by pond life. Translucent things like flower petals work well in this process. Cyanotype printing is the first form of photography using the sunlight and light-sensitive paper. It is quite easy to do, and you can buy ready coated pieces of the paper on-line.
What or who inspires you?
The artist Nedko Solakov hates flying so to help his anxiety he held a piece of clay on every flight that he took and squeezed it in his hand. These squeezed shapes were fired in a kiln and exhibited in a gallery. You can imagine the amount of anxiety held in those forms. Another of his works is a performance piece called 'A Life (Black & White)' where two workers continuously paint gallery walls. One uses black paint and the other uses white. The painters follow each other around the space, painting over each other's work. This is constantly repeated for the length of time the work is in the gallery. Solakov is exploring issues about work, labour, time and repetition. I have always found his work interesting.
I make a lot of work inspired by the natural world. From my table in the studio I look out of the window at our vegetable garden. A row of turnips that were never eaten grew into strange odd forms which I drew and painted. The runner beans also inspired a series of paintings.
If you have ever left something in the oven by mistake you know how black it goes. Burnt roast potatoes inspired me to make a series of carbonised black forms using runner beans, courgettes and potatoes along with various materials which were sewn into them before they went into the oven.
I am interested in the shapes of small creatures, particularly pond life and also strange objects that I find on the road when out walking. I keep a book where I stick in a picture of something maybe an image from the New Scientist magazine, or a photo of something I have found or an image of another artists' work, basically anything that I find interesting. I have a box of animal skulls that I find in the fields; I have not done anything with them yet, but I feel like they might inspire some paintings. I saw Maggie Hambling's paintings on the Grayson Perry Art Club on Channel 4 and thought about the box of skulls. Dora Maar's 'Portrait of Uba', a photograph from 1936 is so cool.
The oddest things can sometimes inspire work. One day a spiderman balloon landed in our garden. I tied it to the garden bench and watched the wind whipping it around which was mesmerising. Slowly it deflated but before that I did some drawings and took a short video of its movements - these inspired a painting called 'tension'.
How do you start a new piece of work or explore a new theme?
Running creative workshops in the Silver Birch Unit in Connolly Hospital where the residents are living with advanced dementia has had a profound effect on my art practice. Bringing in flowers from the garden to the centre brings joy and inspires creativity whilst we paint, make connections and enjoy the moment. My current paintings which are called the 'Border Series' are all about being in the moment, enjoying the process of painting and using material that is around me with an emphasis on colour, shape and a feeling of the subject matter.
I visit public and private galleries as much as possible and study the way other artists use paint. I also attend talks by other artists in Solstice and galleries in Dublin as there is always something to learn from them.
Keeping a sketchbook with notes, drawings and ideas is great. Finding meaningful titles for paintings does not just happen - I search newspapers for interesting comments, phrases or just words and keep them in a notebook for future use.
Do you have any advice for our young readers?
You should draw or paint what you find interesting.
Drawing is especially important, and anyone can do it. An exercise I use a lot is to get a nice sharp pencil, a piece of paper at least A4 size and any object, maybe something from the kitchen, your other hand or a chair. Put your pencil on the paper, look at the outline of the object and as your eyes follow the outline draw at the same time without taking your pencil up from the paper. Do not look at the paper, keep your eyes on the object. Do this each day and your images will get more and more accurate.