But before we begin, let's get ready to Be Inspired
Many of the artists we spoke to use notebooks, scrapbooks or sketch pads of all shapes and sizes to jot down words, draw quick doodles, collect things or record their thoughts in every day. They use these as inspiration for their work, returning to them many times for different ideas.
This week make your own notebook and you can begin gathering and adding to it with us through our Be INspired posts over the next few weeks. There are some links below to help you get started.
It's a good idea to have a hard cover on your notebook or sketch pad. Whether you use a copy book or some sheets of paper, decorate and personalise the outside. Use things you like found around your home or garden to add colour, cut out pictures from magazines or newspapers.
Send us a photo to share with everyone when it's ready and watch it fill with ideas and inspiration over the next few weeks. You can email this along with your first name and a short description of how you made it to deirdre.rogers@solsticeartscentre.ie
Here's a photograph of some of my first notebooks. I started these when I was in art college a long time ago. You can see I have added photos, textures, drawings and writings that I still use as inspiration today!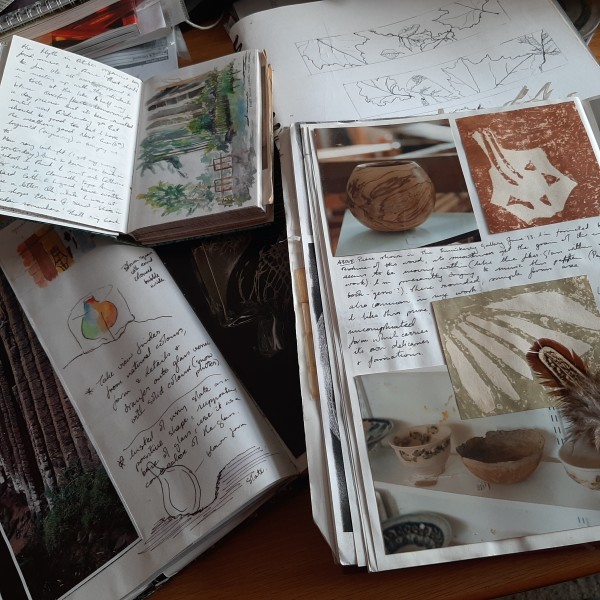 I'm looking forward to seeing your notebooks too.
Have fun making,
Deirdre
Deirdre Rogers is our Visual Arts Education & Public Engagement Officer. She is also a glass artist and has a studio at her home near Navan where she has been making artwork for over 20 years.
Check out the links below for ideas on how to make your own notebook and always ask an adult for help and to cut or stick for you when using sharp or hot tools such as a scissors or glue gun