Visual Arts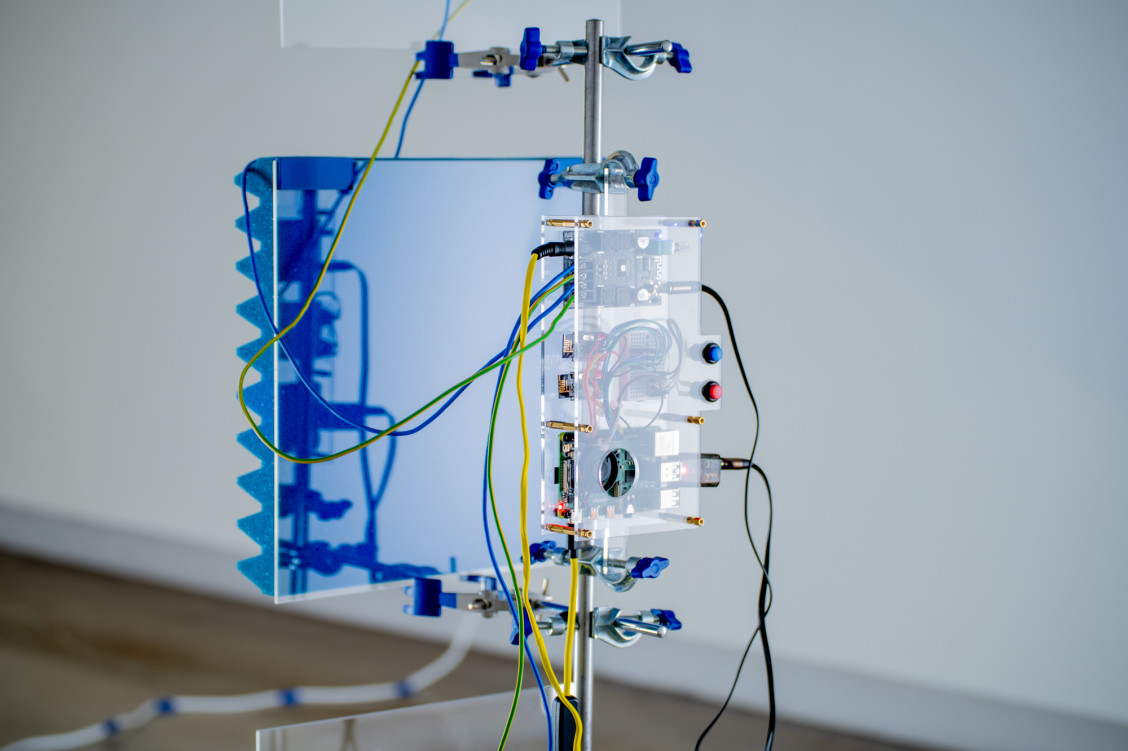 I am Sitting in a Room
Sven Anderson, Chloe Brennan, Karl Burke, Adam Gibney & Theo McNab
Curated by Belinda Quirke
This exhibition takes its name from the Alvin Lucier 1969 infamous piece "I am Sitting in a Room", in which the composer narrates a script and continually re-records each sounded recording on tape, until his voice is gradually replaced by the resonant frequencies of the room.
Theo McNab's (d. 2015) geometric resonances chime with a sonic landscape in optical and perceptive play, once describing his work "as a frequency so high it is beyond human hearing". Chloe Brennan uses the Theremin as a sensor of forces below human perception in "Different Dusts". Currently Brennan explores the resonance of water through the continued use of Victorian listening sticks to detect subterranean leaks. Karl Burke's new work for this exhibition is primarily concerned with an inquiry into the spatial nature and experience of sound, involving a site-specific sculpture/sound installation. Adam Gibney's work acts as catalyst for digesting the philosophical and societal conundrums. Here he explores algorithmic feedback mechanisms through digital experimentation. Commissioned by the Office of Public Works, Sven Anderson draws from the music collection of the late painter Derek Hill, transforming passages from classical and opera recordings into delicate acoustic textures in which voices and instruments fold back into themselves to reveal hidden resonances.
In association with this exhibition, two bespoke curated sound performances will take place:
Quiet Music Ensemble, Sat. 2 July 2022
Xenia Pestova Bennett with Ed Bennett, Thu. 4 August 2022
Scroll below to see other Learning & Engagement events associated with this exhibition.


BIOGRAPHIES
Sven Anderson is an artist working between Ireland and the US since 2001. Anderson's practice operates through artistic intervention, participatory actions, collaborative research and interactive design. His installations and performances respond to details of the built environment, the bodies of the audience and fragments of local history and ecology to suggest emergent, site-specific forms. Anderson develops projects in which different voices and perspectives surface together, prioritising shared authorship and collaborations that converge on systems articulated in public space.
Anderson is a researcher at the Graduate School of Creative Arts and Media (GradCAM) at TU Dublin. He convenes the course 'Vibrant Forms: Reconsidering the Built Environment Through Sound' at the National College of Art and Design (NCAD) in Dublin, and has delivered presentations on sound, architecture and urbanism at conferences, universities, and design institutions around the world.
Recent exhibitions include: A Visibility Matrix (with Gerard Byrne; Void, Derry, 2019; Secession, Vienna, 2019; Le Printemps de Septembre, Toulouse, 2018; The Douglas Hyde Gallery, Dublin, 2018), and Field Recording (with Mit Jai Inn; Rua Red, Tallaght, 2018; Curated by Jennie Guy).
Chloe Brennan is an Irish artist from rural County Carlow who divides her time between Carlow and Dublin. Through a combination of moving image, sound, photography, print, installation and language she explores the porosity of the body and its indivisibility from its environment, particularly as it is contextualised against the unstable backdrop of the climate crisis. She is interested in how forces are registered and measured - both experientially and materially - in human and non-human bodies, exploring the possibilities of different and expanded modes of sense making and attunement. Informed by feminist and materialist epistemologies, works often involve close and careful examinations of the poetic haptics of daily life, processes on the edge of perception that call into question boundaries between bodies, intimate spaces and the wider environment. She has exhibited nationally and internationally and her practice has been supported by The Arts Council of Ireland, Thomas Dammann Junior Memorial Trust, Culture Ireland, The NCAD Research Committee, Carlow County Council and ArtLinks.
Karl Burke is an Irish artist and musician based in Dublin. He has exhibited widely in Europe and North America including The Royal Hibernian Academy, Irish Museum of Modern Art, Hugh Lane Gallery, Project Arts Centre, The Mac, Maria Stenfors Gallery, The Serpentine and The Mattress factory.
A site specific practice of primary concern in the work is the symbiotic relationship between the art object, the space it inhabits and the experiential concerns related to viewership. The work is often minimal or reductive in appearance and takes the form of sculptural installations often utilising the mediums of steel and wood. Video, sound and the photographic image are utilised in other instances.
The work and practice deals with perceptions, both emotional and physical, of our three dimensional world. Subtle but logical sculptural interventions offer the viewer the opportunity to reassess and acknowledge the world that surrounds us. Logic and the scientific, interplay with nature to question space, place and perception, affirming the role of the viewer in the construction of environment. The work endeavours to draw out a certain in – between - ness in the potential in forms of space and place, to assert the present and make concrete the now.
Adam Gibney is a Dublin based artist who graduated from IADT, Dun Laoghaire. Gibney engages with a range of digital and physical media including sound, electronics, coding and sculpture as an attempt to unravel the peculiarities of our post-anthropocentric
reality. Digital experimentation that occurs in the studio acts as catalyst for digesting the philosophical conundrums that his practice frequently explores. Blurring the distinction between scientific, philosophical and esoteric methods of knowledge production and consumption; his works often present themselves as quasi-instruments. The underlying algorithmic elements of these technological assemblages echo process-philosophical approaches to questioning realities, dissolving the dichotomy between internal and external worlds.
His solo exhibitions include Projective Verse 9: Deep Breadths (Daegu Foundation of Culture, South Korea, 2017) and Euclid, I miss you…(Artbox, Dublin, 2016). Other notable exhibitions include Scaffold (The Bomb Factory, London, 2019), The Voyage (CB1 Gallery, Los Angeles, 2016) and Futures (Royal Hibernian Academy, Dublin, 2014). In 2016, Adam represented Ireland in the V Moscow Biennale for Young Art – Deep Inside.
In 2019, Adam launched his first public art project, Your Seedling Language, in St. Catherine's School, Rush, Co. Dublin. In 2021 he exhibited his exhibition 'Can you breathe for me?' at the Oonagh Young Gallery, Dublin and completed a temporary public art commission for Graft as commissioned by The Glucksman Gallery and The National Sculpture Factory, Cork.
Theo McNab (d. 2015), was born in Dublin in 1940. His abstract and minimalist landscapes are highly accomplished studies, executed in muted tones. His works often from a grid structure, that are focused on the interplay of light and perspective within in this system. They are both depictions of the organic landscape and the geometric forms found within it.
McNab first exhibited his work in 1971 in Dublin, and had a one-man show in 1973. His work was shown in Rosc 80. He has represented Ireland at the prestigious international painting festival Cagnes-sûr-Mer in 1975, and has participated in group shows in California, England, Italy, Germany, Japan and China. He won the Scott Tallon Walker Prize at the Oireachtas Exhibition in 1976 and was Head of Fine Art at NCAD from 1988-2000. He was elected as a member of Aosdána, the Irish Association of Artists, in 1981. His work is held in the collections of the Irish Museum of Modern Art, Dublin City Gallery The Hugh Lane, and the University of Limerick Art Collection.
View all Visual Arts Events